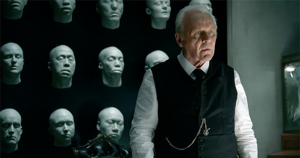 In video games, especially first person shooters, there are players, and there are non-player characters (NPCs) – computer-generated folk who flesh out the story but they are run via AI, and aren't being played by a real person.
If the world as we know it is one big simulation, then one of the questions that must be asked is who are the players, and who are the NPCs?
The first possibility is that we are all players. That fits quite well because most people think all people are just people.
The second possibility is that we are all NPCs – and we are merely pawns in a simulation being run for unknown reasons.
Neither of those possibilities are worthy of pursuit, because ultimately the simulations are no different for us than if we were in a reality.
The third possibility is that some are and some aren't. So who is who?
I presume I am a player, because an NPC would probably be programmed to not question their reality, otherwise the simulation loses its focus. (Yes, there is the possibility that the focus is seeing if NPCs can work out they are in a simulation…)
I also presume that real players are the minority. That is because NPCs exist to flesh out a scenario in a FPS video game, because it is easier to program and more economical to have it that way.
Historically there have been some very different individuals who have "stirred things up" or advanced the simulation somehow. Think Buddha, Jesus, Leonardo Da Vinci, Shakespeare, Einstein etc. They stand out like a sore thumb and suggest to me that they were introduced when the simulation stagnated, that they are players with special privileges. You could argue that the only reason we have societies focussed on "progress" is because there is no point running a simulation that doesn't progress.
Aside from them, I have a few ideas about who are players and who are not:
Players
Might fight the system / break rules
More likely to be keen on physical and mental pleasures, including drug and alcohol addictions
Includes anyone on the Autistic scale, or pretty much anyone who could be judged as being defective
Singer-songwriters
Writers/Poets
Rebels and activists, or anyone who takes an individual stance that puts their life in danger
NPCs
Purely from my own observations and totally guesswork
Cyclists and rowers – those who do so obsessively
Bus drivers – it has occurred to me that nobody knows one
Osteopaths – they all seem to be too nice and perfect, unlike GPs
People who look the same – not exactly the same but who feel familiar because you have known people almost the same as them
Adherents of organised religion
Politicians – only about 10% of them seem to have a soul, and the way they talk is surely programmed
Actors – ditto
Dancers – ditto
Classical singers – ditto
People who don't have strong dislikes
Clearly the simulation will be a failure if the Players can tell who the NPCs are. Unless the aim of the game is to prove that we live in a simulation.
Or, just like Westworld the TV show, perhaps the players can beat the system, or hosts.
Whoever cracks this puzzle will be adept at spotting patterns, and perhaps won't be able to prove them – just like modern AI systems that will just know the answer and not be able to show the path their logic took…